Well folks, I have been cutting back on my writing lately. I haven't felt good about most of my recent posts. They did not, in any way, mirror the concepts I was trying to get down. I felt I had lost my clarity and was not seeing a lucid thesis in any my work. Most of the blame is on being pulled in too many directions with my long work hours. I decided to post less frequently until I felt like my posts would better reveal my thoughts. Now they are "but poor reflections in a mirror". Until then I will still read my comments everyday, and greatly appreciate them. I will just be posting less often until the time comes that I feel my ability to clearly portray my thoughts has returned. Here is one for you in the mean time. Hope you enjoy!
God unveils latest art piece
God, creator and supreme ruler of the universe, unveiled her latest artwork on Monday at an underpass in Chicago. Jehovah, or God as she prefers to be called now, released the work to the public with no press release, but the artwork was quickly discovered by local fans who began flocking to the event quoting God's earlier works and being a bit reminiscent of Star wars fans standing outside Grauman's Chinese Theatre.
A local boy Timmy, who has been saved by a collie on numerous occasions, noted that he could have drawn a better likeness. Fans where quick to reply that critics were missing the entire point of the art piece. "God is currently in her abstract period where she is contrasting with her more heavy handed work of a few thousand years ago. Audiences are smarter and more sophisticated today and God knows that. She is creating mystery art that keeps that audience guessing. Is it a message from God or a stain on an underpass? Is it really the Virgin Mary? This is more fun for everyone involved. This is one of God's most brilliant works." Said Pierre de Gaulle, author of "A Gay Man's guide to God's Art". "This is even more spectacular than her chiseling of Mary on the tortilla chip, a world renown piece that redefined art as we know it."
Critics expect more in the Virgin Mary Series from God. Mary, a former illicit lover of God and also her mother, has figured prominently in most of her latest works. Judging from God's past work, she likes to stay with one style for long periods, then quickly shift to a new style. God, a misunderstood artist known for her mercurial nature has at times promised to destroy the entire earth in a scene fit for the opening of Hitchhiker. Fans say God can be a bit trying, but as long as you follow her demands she is actually very loving.
Satirical author ElvenSarah has another view of the painting. "Oh, so that's what Mary's vulva looks like" Said Sarah, who demands everyone pretend she is an elf. "God seems to really have a thing for genitals, I mean, she put them on half the things she created!" I think God has just finally discovered she is a lesbian and is revealing that in her art."
God could not be reached for comment.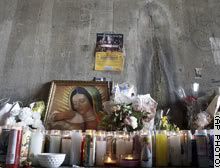 And now, for something completely different.
Elvensarah Tells the Future:
Scene one done in Family Guy-Esque animation. Two cockroaches with British accents have morning coffee at their dinner table.
Roach1 [reading the newspaper] So scientists uncovered more of those giant two legged creatures that roamed the earth millions of years ago. Seems they didn't have exoskeletons, just soft fleshy skin.
Roach2: That's disgusting. I'm trying to eat breakfast here.
Roach1: Oh, I didn't know we had any rotting insect salad left. I think I will have some of that.