Invasion:

I think I may have found a new form of life, and it is in my kitchen. It has visited twice now; both times after rain. It shows up in the evening and is always gone by morning. I was able to snap a few photos but they look more like grainy spy satellite images or video footage of a cigar shaped UFO. My camera is not very good and this creature is relatively small. Anyone out there know what it is?


It looks like a small leaf or bark from a tree. At first glance that is what I thought it was; something that I had tracked in from the wet sidewalk.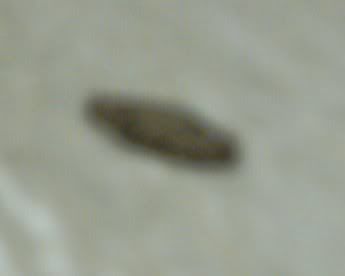 I noticed some movement and thought the air from the vent was blowing on it. A closer inspection revealed that it was self-propelled. It was dragging itself, very slowly, by some kind of suction device, or more likely, a hook.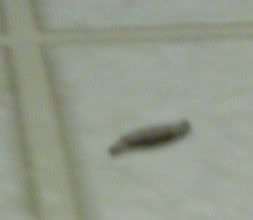 This hook was retractable, like a turtle's head, and went in quickly when I moved in front of it. The movement was reminiscent of an inchworm. It would throw the soft forward portion of its body forward, then drag the much larger portion behind it. The velocity of the creature was very slow. I imagine the only thing it could ever catch would be a snail, so it is likely a herbivore or scavenger that eats dead flesh.






Affiliates: Friends and Fans

Have you a link to me on your blog/website? If so, I would like to link back to you! Hey, it's only fair. I will be creating a links section on my side panel sometime before the tropic of cancer is filled with direct rays of sunlight. If you would like to be included please send me an e-mail. I might forget if you merely leave a tag.

More Gifts:

Thanks to Christina, there are now three blinkies to choose from when linking my site. Thanks Christina! Blinkies/Banners are located on the side panel and can be used by anyone. As per Internet etiquette, please save them to your own server.


Buying ones and zeros

Any college students or apartment dwellers out there who use a Web laundry system? If so I have a WEB laundry card that has 10+ bucks on it. I'll mail it to you if you would like and then you can send me five bucks or something. I just hate the thought of throwing money away. I have so much crap I need to get rid of. Around 100 christian music CDs which now have no appeal to me, old computer parts, et cetera. Guess I should hit up e-bay.





I have a much more serious article planned that has to deal with something I have been seeing in churches lately. Now that I know christianity is false it really bothers me how many people have been sucked into it and how much influence it has on society. The sheep are getting the wool pulled over their eyes and it is breaking my heart. I'm afraid I am becoming a missionary again; this time for rationalism instead of superstition.


current music: Elgar: Violin Concerto - Lark Ascending




Edit to attract Zoologists: gastropod organism Mollusca phyla Annelida Nematoda Nemertea Platyhelminthes phylum larva Lepidoptera Insecta Digenea fasciola annelid Hirudinea